This article comes from Gravyty's good friend and partner, John A. Farkas, Jr., Major and Planned Giving Officer for WVIA Public Media and was initially posted on the Han Valk Fundraising Consultancy blog.
You can read more about John and his approach to fundraising in this case study, outlining how with Gravyty's fundraiser enablement tools, powered by artificial intelligence (AI), he was able to expand his capacity as a fundraiser by more than 3x, meet and exceed revenue goals in less than a year, and more.
THE NEW NORMAL
In a matter of hours, my life changed drastically. I was suddenly working from home, when I would normally be in the office or out meeting with donors. I had a roommate sharing my one-bedroom apartment, for the first time in my adult life. I was responsible for training a major gifts coordinator, now remotely. To top everything off, I was without a vehicle and would soon require emergency dental surgery.
This was all happening when the COVID-19 Pandemic lockdown began in the United States. Serving as the Major & Planned Giving Officer for WVIA Public Media, my organization was considered essential, and fortunately I was still permitted to work. In short order, most of my friends were without jobs. Even though I had my own hardships, I certainly considered myself lucky.
In my profession, you are not just raising funds, but really, making friends. The common phrase heard by members in the philanthropic world is "I'm great at building relationships", but what would happen to those relationships, or even friendships in one form or another, when an international pandemic takes place? People soon become worried about paying bills and putting food on their tables and while you are fortunate enough to continue working, there is a personal responsibility to ensure funds are raised in order to help sustain your organization's future.
Everything I knew about philanthropy changed overnight. It became clear that this was not going away anytime soon. I found myself cohabitating, on lockdown, attempting to obtain a rental car with nowhere to go, and in severe pain. All these changes happened rather quickly, and this was only week one.
The simple thing to say is that we were not prepared for something like this — the government, my organization, American NGOs. But what keeps me going, are the friends I have made and the relationships I have built. I prefer to call them friends rather than donors, because at this current moment, I have never felt closer to these individuals. Without this group of friends, I could have fallen flat. The demographic of large donors for my organization do not generally use video conferencing. Our visits are usually face to face. They enjoy, as I do, one-on-one, in person conversation. If I were to make a substantial contribution to an organization, I would prefer knowing who was representing that organization by meeting them in person, or at least virtually.
While we were not completely ready, we adapted fast. My friend and colleague Kirsten Smith, our Grants and Education Officer, developed an initiative that helped students who may not have internet access, but did have access to public television, so they could continue learning from home. I continue to train our Major Gifts Coordinator, new to the field and in her role less than three months when the "new normal" began. I am confident when we return to some sense of routine, she will continue to excel, as she has during these extraordinary circumstances.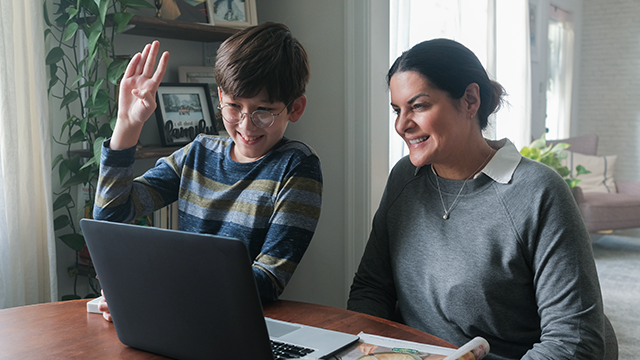 My personal fundraising efforts changed from a request for support, to simply checking in on friends to see if they were okay. The usual questions were not as important as the relationships built and friendships made, as they have always mattered the most. A simple phone call, to see how someone is handling the situation, means more now than ever before. What I have found to be most beautiful in this tragic state of affairs, is that we care about each other more than we may have ever realized. We are truly all in this together.
We could have embraced the need to work remotely, earlier. We could have offered videoconferences long before we knew what COVID-19 was. I could have dropped my car off to be fixed beforehand or invested in an apartment or home where we do not switch rooms when it is time for work to begin. Or potentially, albeit hesitantly, I could have delayed emergency dental surgery. But in the grand scheme of things, none of this really matters when you are faced with a global pandemic.
I realize now what I have known all along, which is why I began working in this field. I was raised in a family of fundraisers where attending cocktail parties and exhibit openings and learning to work a room all seemed normal. What I have found to be the most meaningful part of these experiences, are the people you meet along the way. My donors have become my friends. I am grateful to have a large group of individuals that check on me as I check on them.
Philanthropy in America will have undergone a transformation when the dust settles. It will change everything, everywhere. Technology will be more prevalent. The Artificial Intelligence tool my organization invested in, Gravyty, will become more essential to fundraising as time goes on. Teleconferencing may become the preferred way to tell your story and communicate with donors.
What I have learned and am certain of, is that part of my success is contingent upon the connections I have created with individuals. When the time comes, there will be BBQs to attend, articles to be discussed, lunches to be had, and a warm welcome, with lots of catching up to do. I would not trade these friendships for the world. Not only do these individuals continue to support the mission of my organization, they continue to support and believe in me.
Cesare Pavese wrote that "We do not remember days, we remember moments." This moment in time will not soon be forgotten. By no means are the moments that make up this story unique. Life has changed for everyone. Our daily routines, the way we conduct business, even the simple task of going to the grocery store has become something to think twice about. But I hope that my story will inspire others to share their own experiences.
Learn how John uses AI to build relationships that help him set and exceed his annual giving goals.